Dear Brian Users,
As we approach the end of 2022, we wanted to take a moment to reflect on Brian's progress and share some key findings with you. We are grateful for your continued support and trust in Brian, which has allowed us to make great strides this year. In this update, we will share some details on our development, how we have added value to our users' work, and the milestones we have achieved in Brian's journey. We hope you will find this update insightful and you'll continue to support Brian's growth and development.
Brian is a digital assistant designed to assist professionals with tedious and time-consuming tasks. It has come a long way since its creation and now offers 30 skills to help its users. We are proud of what we have accomplished so far and look forward to continuing working to improve and expand Brian's capabilities further.
What are the most popular skills of Brian?
Brian has become a versatile productivity assistant for our users, helping them with a variety of tasks. File translation, company research, and slide graphics skills are the most popular among our users, as shown in the graphic below. The key advantages of using Brian are its ease of use and fast response time, with requests being completed within seconds. This saves our users valuable time and allows them to be more productive. On average, Brian has helped each user with six requests per month, estimated to save the average user 6.4 hours per month.
Request structure  in 2022: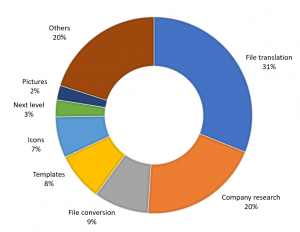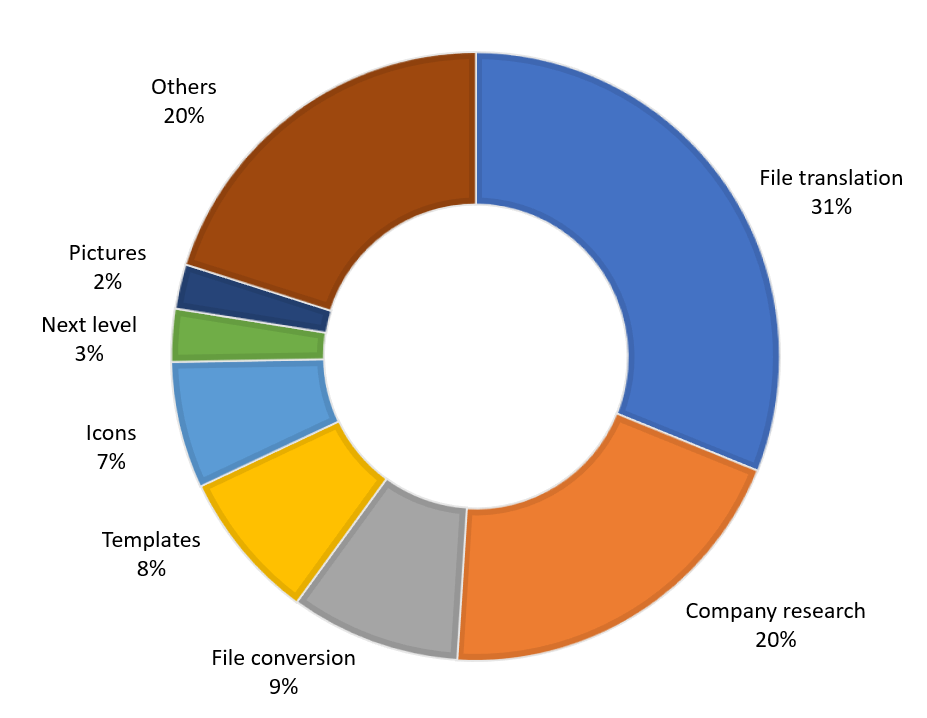 Among our many skills, translation is the most popular, with one-third of all requests being for this service. These are majorly for translating files between English, German and French.

Company intelligence is the second most popular skill of Brian with 64% of requests for private companies and the rest for public companies.

Our PDF to MS Office conversion is also among the leading skills, with 88% of requests being for digitally created PDFs. Residual 12% of documents are PDFs or pictures.

Brian's slide graphics skills, which offer a range of templates, icons, and pictures, have also proven to be very popular among our users, accounting for 18% of requests in 2022. This year, we have expanded the skill even further by incorporating human-created and AI-generated images offering even more variety to our users.

In order to better serve our clients in the consulting industry, we have introduced three new AI-powered skills this year that use OpenAI's GPT technology. The skills Ask Anything, Draft Bullets, and Brainstorm automates common tasks such as information gathering, providing qualitative sub-aspects, and idea generation.
Do Brian's users prefer Email or MS Teams?
When Brian first launched, our users could only communicate with it via email. However, we soon discovered that many business professionals preferred to use MS Teams instead. In May 2021, we added MS Teams as an additional channel for accessing Brian and invested significant time and effort into improving its functionality within Teams. Since then, the adoption of Teams among our users has been strong. More and more users have started accessing Brian's skills through Teams, citing its ease of use, convenience, speed, and fun factor. However, there are still many users who prefer to use email to communicate with Brian in certain scenarios or because of restrictive IT departments.
A shift in channel usage: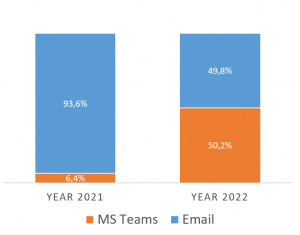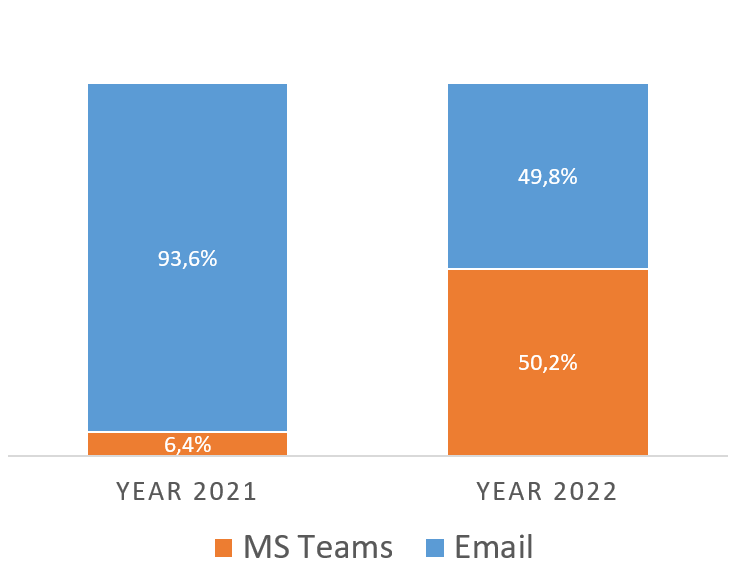 We are always looking for ways to make Brian more accessible and user-friendly for our existing and potential customers. One of the most popular modes of communication for many business teams around the world is Slack, so we worked hard to integrate Slack as an additional channel for accessing Brian. We are pleased to announce that we are releasing the beta version of the Slack channel for our users and will be ready with the final version soon. We hope that this will make it even easier for our users to access and use Brian's skills.

What about the new generative AI skills powered by GPT?
At AskBrian, we developed three practical use cases of content automation powered by OpenAI's GPT model, which is designed to improve productivity and reshape the way business professionals work. These include:
Ask Anything: It was our first skill in this category, launched at the beginning of the year. It allows users to get short answers to any of their questions within seconds.

Draft slides: This skill was launched in April. Brian can draft slides with key points for any topic or action title and suggest visuals for its users.

Brainstorm on 'any topic': This skill was launched in July. Users can quickly brainstorm on any topic with Brian's help. 
Although AI content generation is still a developing field, our users' response to these skills has been encouraging.
If we look at the share of these three skills since July 2022, 'brainstorm' has been the most popular: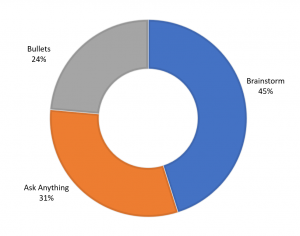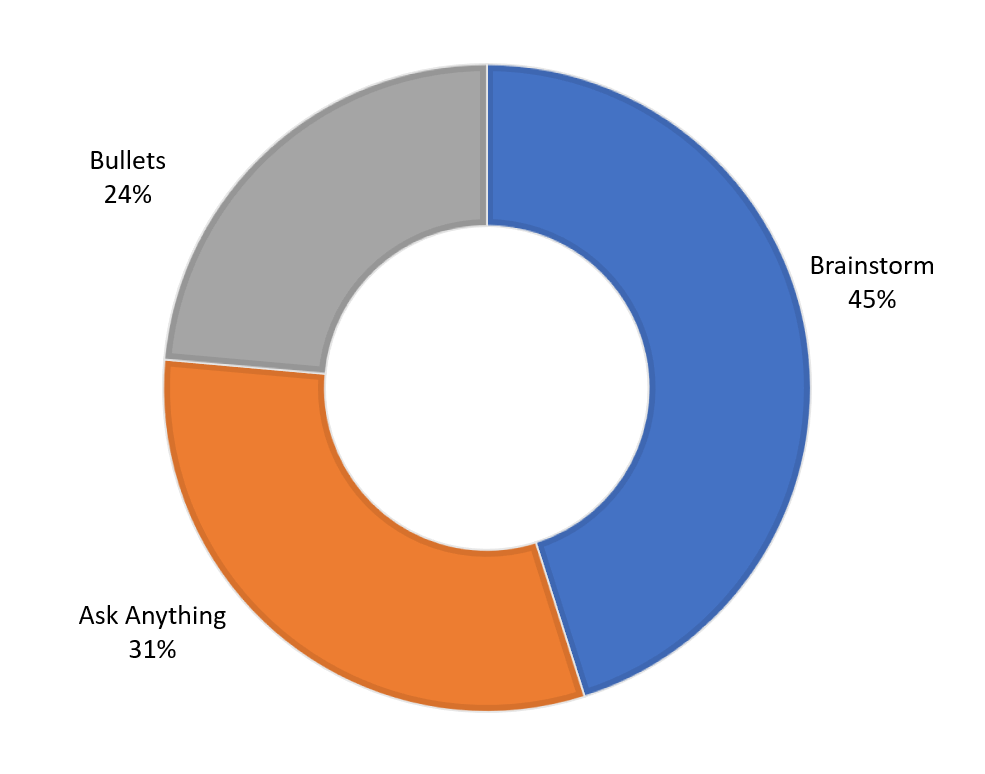 We are always looking for new ways to delight our users and are currently evaluating how we can integrate the highly-regarded ChatGPT feature by OpenAI to best serve our users. We are excited about the potential of this technology and look forward to incorporating it into Brian's capabilities.
What were the most frequent questions of the users?
Brian is a productivity tool with specialized AI applications. It is trained with a limited set of skills of various types. Since Brian is a new tool and we continue to add first-time users, it is natural that our users will have questions about its capabilities.
The most common questions from users last year were:
What are Brian's skills?

Can it help me with formatting slides and ad hoc research?

What is the list of companies covered by Brian?
We have focused on making it easier for our users, especially new users, to understand Brian's skills. We have more information on our approach to customer success in the following section.
What were the best practices on the customer side?
The impact of Brian's usage and the amount of time he can save per employee largely depends on how he is communicated and managed within the organization. Some best practices for effective Brian ambassadors include:
Management making clear statements about Brian and explaining why he is joining the team, which can greatly influence the organization's perception of him

Communicating about Brian in the same way as human new hires are introduced to the company

Organizing onboarding sessions and sharing recorded versions of these sessions with employees who are unable to attend live events

Sharing information about Brian on the company's intranet pages can also be beneficial – here, you'll find our "Intranet blueprint" based on the best practices we know.

Regular calls with Brian's ambassadors allow us to prioritize his development and support your success.
How do we ensure customer success?
At AskBrian, we understand the importance of customer service. We have invested and continue to invest a lot of time and effort in developing processes to help our users get the most value from using Brian while maintaining security and privacy on the highest possible level.
We are proud to share that Brian successfully answered 86% of users' requests last year. Of the remaining failed requests, 90% were user-related and mainly fell into one of three categories:
users asking for something outside of Brian's capabilities, 

users requesting information on companies not included in Brian's current scope

users using very unusual formulations in their requests
To address issues related to our users' requests, we have a proactive customer support process in place. In most cases, Brian is trained to answer users in real time about any problems with their requests. Additionally, we also reach out to users who may need assistance with using Brian.
We have also invested a lot of time in developing cheat sheets, videos, and blog posts to make it easier for our users to use Brian. Our cheat sheet provides an overview of all of Brian's skills and gives examples of request formulations. We have also created multiple videos about Brian's skills and how to use Brian on our skill page and YouTube channel. Many of our users have found our blog post "How to work with Brian? Check our top tips" helpful. Additionally, our users can contact us for support at support@askbrian.ai.
What additional achievements are we proud of?
AskBrian has had a fantastic year, and we have earned our fair share of bragging rights. Our focus on hard work translated into many opportunities. Brian was listed as one of the Top 5 tools in the 2022 consulting issue of Brand Eins this March. One of the main reasons for the achievement was his ROI capabilities. Our CEO and Founder Pavol Sikula presented Brian at many leading events such as Bits & Pretzels, Succeet22, Digital Future Congress, BDU Beratertag, and the Procurement Summit, and online shows like Johannes Nyari's 'Mastering Consulting.' Pavol also spoke at the Research Plus edition in Nürnberg and DIY&T Research Days organized by marktforschung.de.
We were recognized by Google as well! AskBrian was invited to join the Google for Startups Cloud Program. Pavol presented Brian at their 'Art of the Possible' webinar as a showcase for the adoption of AI. 
Last but not least, our AI Assistant was a good colleague to thousands of users and over 500 student consultants in 2022, which was one of the reasons why AppliedAI listed us among the Top German AI Startups of 2022. This continued trust of our clients in Brian drives us to add new skills and make him even more valuable, and we aim for even greater heights in 2023. 
Do you want to learn more about Brian today and tomorrow? Book a free demo, we are happy to talk.
Thank you!