Brian is a multifunctional AI assistant designed to help boost the productivity and efficiency of consultants and business professionals on a day-to-day basis. Although he is extremely simple to use with his Email and Microsoft Teams interfaces, using any new tool brings some questions. 
For our valued users, we would like to make sure that our AI assistant offers a frictionless and 'Aha' customer experience. Hence, we decided to compile this blog to help prevent the most frequent challenges Brian's users face and suggest some tips for efficient work with your favorite tool. 
To start with, we know that each person's time is precious, and we respect it. For this reason Brian is enabling a very quick start – watching this 3-minute video usually does the most of the onboarding job: 
Feels good to get started?
Well, we recommend you to continue reading, as we prepared some extra insightful tips that will help you create maximum value in the shortest time with Brian. Here they are:
1. Ask for Brian's skills to learn how he can help you!
Brian is equipped with a growing set of helpful skills easily accessible via Email and MS Teams. Make sure you check out the skill overview with comprehensive information on how Brian can be helpful for your work. How? Just ask him "What are your skills" via email or teams and he will share his current skill overview with you. Our goal is not to solve all problems that business professionals have but rather to help with specific tasks, so you can work smarter and have time for the activities that matter the most. 
2. Always ask for ONE thing at a time and keep your request short and simple
As Brian helps you with specific tasks via natural language it is quite relevant how you formulate your requests when interacting with him. Make sure you always ask for one thing when you are sending an email or message via MS Teams and keep it simple and short. Brian's cheat sheet will help you get a detailed overview of all available skills and learn how to exemplary formulate the requests. You can also always ask Brian "Cheat Sheet" and he will share with you the very most recent version of the default requests. 
3. Don't forget to use our quick, direct links to draft your requests 
As we already mentioned, we know that your time is very valuable. To ensure that you always have the shortest path to getting your requests answered, we have provided 'Click to Ask' and 'Click to Teams' links on most of the customer touchpoints where you can interact with Brian, such as his signature, skills page on our website, skills Cheat sheet, etc. One click on the hyperlink drafts your next request to Brian.
4. Go for Teams – it is a lot more fun
Although both email and MS Teams are extremely simple to use to interact with Brian, we have observed an increasing number of our users preferring Teams. Some of the reasons "why" go back to the fact that Teams is more fun to use, much faster, and offers more guidance when it comes to scope of Brian's skills. When you ping Brian to the app bar, he is just one click away and you will have never to check your spam folder again.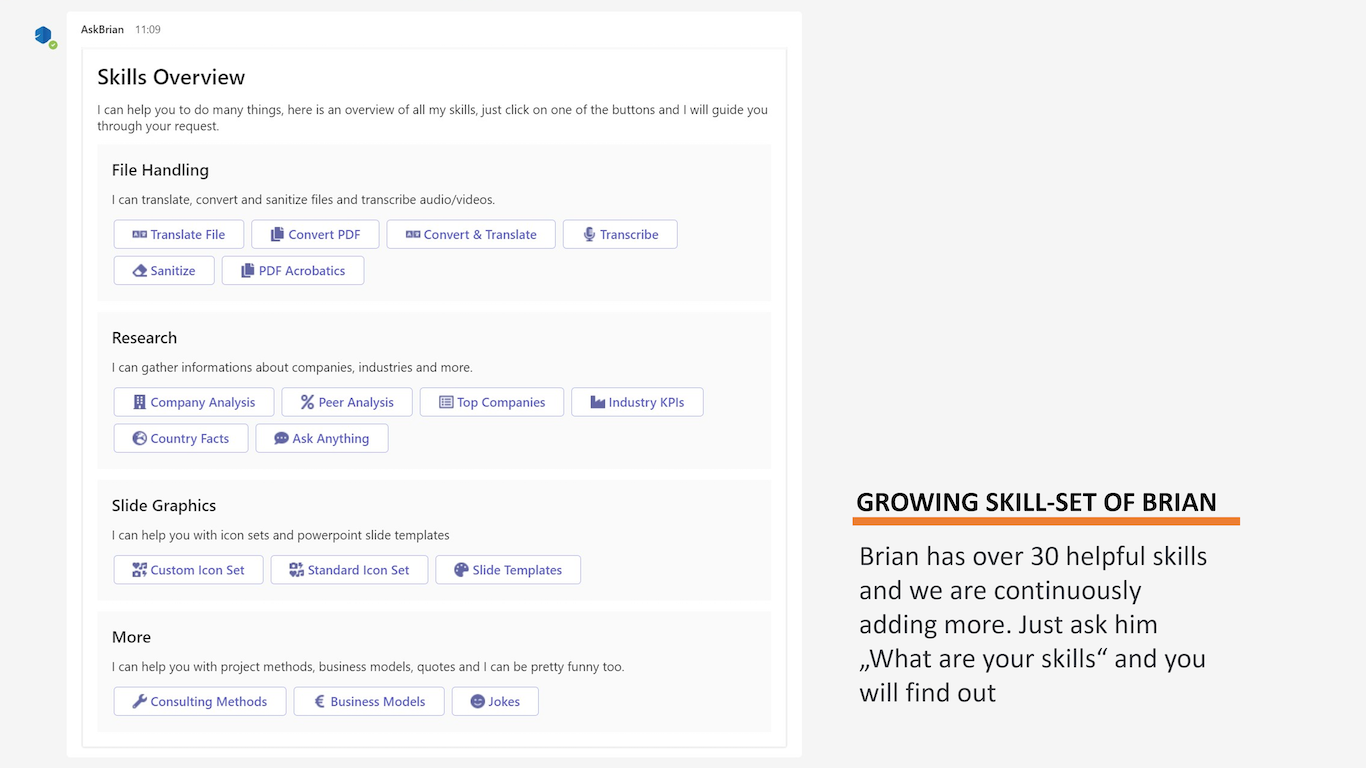 While using Teams for file translation, conversion, transcription, sanitization, and pdf acrobatics' related skills, you can attach a file within 3 mins of sending your request. Why exactly 3 mins? Based on our analysis and experience, 3 mins is usually sufficient time for users to search for a file in your system and share it with us. Check this video how the translation via Teams goes.   
5. A few additional small but helpful tips
First some general ones – being relevant using all the skills of Brian: 
Brian's mother tongue is English, but he also interacts in German and French

Share files with size of up to 20 MB and 100 pages

Make sure you are aware of your access rights when sending requests to Brian – If you don't, Brian will tell you so

If you use Email – check your spam in case of no response

In case you get excel as a Brian result, you need to 'Enable editing' in order to get the numbers updated
Our short videos are here to help. If you need any further guidance, make sure to check Brian's YouTube channel or refer to our website.
If you are curious to go deeper into the skill-specific tips, here are the most frequent issues when working with Brian and how to solve them:
File Translation: Brian supports translation of pptx, docx, xlsx, pdf, jpg, and png files

Convert PDF – Brian converts pdf, jpg, and png to all MS Office formats, but cross-conversions are difficult (e.g. former pptx via pdf to excel)

Transcribe: Brian transcribes mp3, m4a, amr, and mp4 files from 130+ languages; sharing the file's language is a must

Sanitize: Brian deletes sensible content in Word and Powerpoint documents

Merge PDFs: Brian merges up to 3 files per request into one

Split PDF/Extract page from PDF/Delete page in PDF: Please don't forget to name the relevant page number(s)

Company Analysis/

Peer Analysis/

Top Companies: Checklist of covered companies here – Private and Public

Slide templates/Consulting methods/Business models: Check the topics covered for each of these or ask for an overview

Ask Anything: Write "GPT-3:" before your question and the smartest AI in the world will answer
6. Check the scope of each individual skill on our website
Each of Brian's skills has a definite scope in terms of what it can do for you. For instance, file size supported for translation, file type supported for conversion, languages supported for transcription, organizations covered for company analysis, etc. For more detailed information on the scope and troubleshooting info related to each individual skill, you can refer to Brian's skill section on our website. 
In addition, our FAQ section offers detailed guidance on multiple areas like a trial, access, usage, scope, and other helpful info. 
7. And last but not least, customer support is always there to help you!
We have a proactive customer support process in place, which allows us to reach out to our users who we have an indication that they need some assistance in using Brian. If all of the provided resources are not sufficient, it is important to remember that you can always ask us for assistance to support@askbrian.ai
Don't have your Brian account yet?