I have been in top management consulting (Stern Stewart, Roland Berger) for 15 years and I loved to deal with the most crucial challenges of senior managers in leading companies. Along the way, I also have gone through pretty much all the operative obstacles that consultants need to overcome in their daily work. With this background, we at AskBrian explored for the last 4 years new ways how the latest (AI) technology can be used to make consultants (and other knowledge workers) more productive, happy, and successful.
And given the positive feedback from multiple leading consultancies, we share in this article a consolidated view of the top 10 reasons why every consultant needs Brian – the multifunctional AI assistant specifically optimized for the needs of consultants:
1) Saving time
Every business professional knows the value of time. Time to talk with clients and prospects, time for the analytical and creative work, time to develop new ideas, time to spend with friends and family, or just time to get more sleep. On average, Brian saves his users 4 to 7 hours each month by automating multiple day-to-day tasks and allowing professionals to focus on what matters the most. He is a master of more than 30 essential skills and delivers results for each of your requests within 3 minutes, so you don't have to worry about all these annoying and time-consuming activities such as translating, company research, slide graphics, deleting sensitive information, and other… Learn more about Brian's ROI here.

2) Reducing Cost
Consultancies spend a lot for access to multiple information sources, research, and a growing number of tools – we hear numbers between 30 – 300 tools per consultancy. Brian has his 'own' access to hand-picked leading information sources, automates recurring research tasks, and combines key functionalities of multiple technologies in one solution. Brian helps to reduce external spending on research and tools.
3) 'Helping hands' around the clock
When it comes to creating outstanding project proposals or before important steering committees you go the extra mile – sometimes also beyond the regular business hours. New ideas or client requirements require to react on short notice… the need for instantly available consultant support also arises in the case of global consulting operations. Brian delivers 24/7 within 3 minutes and does not require to 'book the capacity' of your support centers or external providers.  Brian is 'always on' and have you covered with a growing number of functionalities – no matter when and from where you ask him for help.
4) Become GDPR compliant
There is a saying that nothing is as expensive as the free stuff. And I can't agree more. Without Brian, it is a common practice to use free internet tools e.g. for translating and converting documents, which can lead to a lot of unexpected consequences for violating GDPR policies. With Brian, you can be sure you are on the safe side. And this is how you prevent wasting money on fines, which can be invested in much smarter and more productive business ways. Check out Brian's security and privacy policy here. 

5) Be on the top of the game
As a consultant, you want to show in multiple ways you are on top of the game – that you know the top innovations and the best technologies out there. You should be always one step ahead. Built on some of the most advanced AI models, Brian is showcasing what state of the technology is capable of today. He uses the top NLP to understand user intents, the most advanced translation AI models to make the best translations, leading technologies for converting scanned PDF documents into editable formats, and OpenAIs GPT-3 model to perform a growing number of next-level skills (e.g. Ask Anything and Draft bullets). 
We love seeing the results clients achieve with Brian. Be one step ahead of your competitors and always provide extra value to your clients. This is what a value-generating AI solution can do for you. A proof of the benefits Brian provides is also his recognition by "brand eins" as one of the top tools for consulting in March 2022!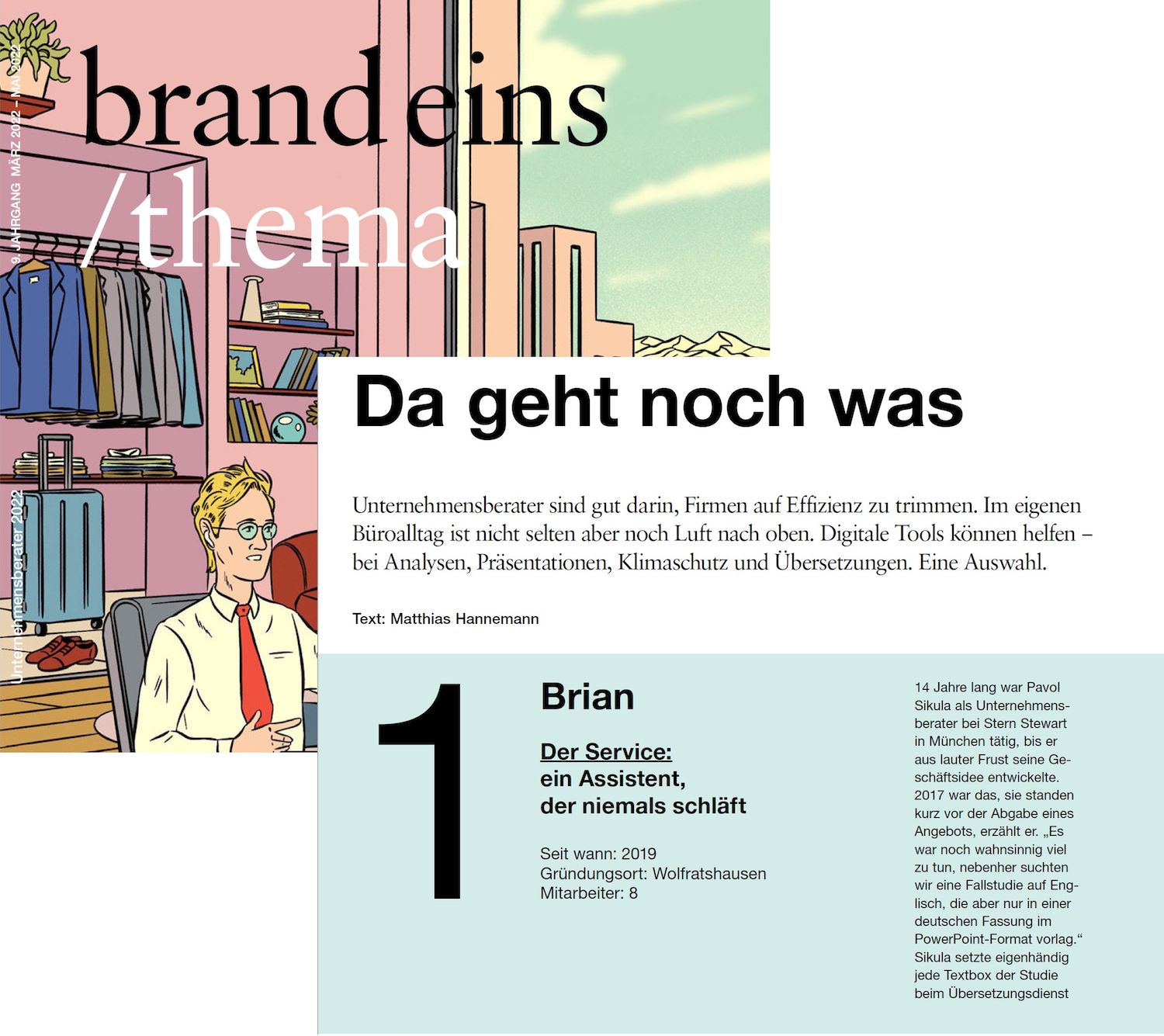 6) Reducing Complexity 
Our lives are becoming more and more complex with multiple tools, solutions, logins… Brian addresses the quest for simplicity and convenience by covering multiple needs in one single source within minutes – you will never need to remember an additional password or your login details again. Brian has an intuitive interface with many helpful features and he is always just one message away. And you can be easy with him – he does not need extra motivation to get the tedious job done, nor will he require a tap on the shoulder – it is only two-click feedback he asks for. 🙂
7) Forget About Software Installations
Installing, updating, and managing desktop applications or add-ins is just annoying. For the consultants as well as for the IT department. With Brian, you are not required to install or get used to any new software. Brian is where your work-related communication happens. He communicates like a regular human colleague via Email and Microsoft Teams in a very intuitive manner. So, your AI assistant is just one message away from serving you to the best of his abilities. 
8) Get Started Today! Literally
As a consultant, you need to focus on your work and should not spend much time learning how to use new tools. If you can write an email, you can use Brian. Unlike other tools, Brian does not require any lengthy training. All you need to do is to watch our 3-minutes "Getting started with Brian" video. We have provided all the necessary resources to get you onboarded in no time, so you can focus on completing your work.
9) From consultants for consultants
Many tools today start with a technology and search for a fitting use case in a second step. In contrast, at AskBrian we started with a list of recurring tedious tasks in consulting and searched for the most advanced technologies and data sources available – combining them in the best UX possible. Brian is designed by and optimized for consultants based on our experience and feedback from consultants we closely work with. And as the AI assistant is already used by dozens of leading consultancies, it seems like we are on the right track. If you want to help, let us know what other functionalities you would like to see in Brian and how we can make your work easier and more enjoyable.       
10) Your NEW WORK companion 
What will be the future of work in consulting? Hybrid working models, flexible working hours, higher importance of 'meaningful' work, new ways to learn and develop… And also the best (AI-powered) tools helping you to succeed with your tasks. With Brian, you will never feel alone at work again.
Do you want to give Brian a try?
Register for a FREE TRIAL or request an interactive DEMO. 
About the Author:
Pavol Sikula is the founder and CEO of AskBrian. He has more than 15 years of experience in management consulting, which he has applied in the development of the startup's digital assistant, Brian. Before founding his own company, Pavol worked at Roland Berger and was Vice President at Stern Stewart & Co. in Munich, Germany.