Many graduating students from top universities consider joining management consulting firms as an appealing first career step. For them, a stint in consulting is a great way to gain quick and broad exposure. Working in this industry offers innumerable other benefits, such as lucrative compensation, incredible learning opportunities, a large alumni network, and attractive post-consulting opportunities, etc.   
However, choosing this career path comes with its own set of challenges. The most notable one is the work-life balance of consultants, which is the main factor in low job satisfaction and high turnover in the sector. The leadership teams in the consulting firms are finally starting to recognize the seriousness of this issue and are fundamentally rethinking their value proposition to retain talent and attract prospects.
We decided to look at this challenge closer and come up with potential ways to solve it. To back up our arguments with data, we will start by analyzing  Kununu employees' surveys from 90 management consulting companies in Germany. 
Results from Kununu employees' surveys
Kununu asked the employees to score their employers from 1 to 5 on 13 parameters in 4 categories – with 1 being the lowest and 5 being the highest score. The study collected 1,170 responses from 90 management consulting companies operating in the German market. The list of companies includes some notable names from the industry. Check out the parameters used in the survey and their respective scores below: 
| | |
| --- | --- |
| Parameters | Scores |
| | 4.51 |
| Dealing with older team members | 4.43 |
| | 4.41 |
| | 4.35 |
| | 4.30 |
| | 4.28 |
| | 4.20 |
| | 4.15 |
| Career and pers. Development | 4.12 |
| | 4.08 |
| | 4.02 |
| Environmental and social responsibility | 3.93 |
| | 3.69 |
| Average overall score | 4.19 |
These scores are, of course, different for different companies, what is notable is that the average score of the largest 10 consulting companies is lower than the same for the industry.
Most importantly, work-life balance has emerged as the leading problem across consulting companies, with the least score of 3.69. And when we looked at the result for the largest 10 companies, this score dropped further to 3.25. Please see the details in the table below: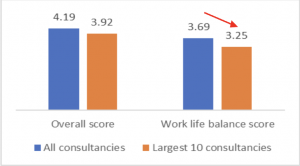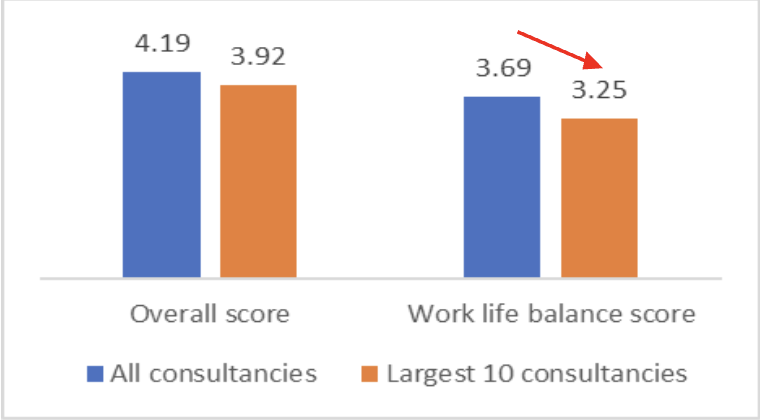 *Names of the largest 10 consultancies: Bain & Company Germany, Bearing Point, BearingPoint GmbH, Boston Consulting Group GmbH, Deloitte GmbH, Ernst & Young GmbH, KPMG AG, McKinsey, PricewaterhouseCoopers GmbH, PwC Strategy& (Germany) GmbH
Work-life balance – the biggest challenge for consulting companies
Management consulting firms are often criticized for the work-life imbalance of their employees. The nature of the work forces consultants to demonstrate a huge commitment and often spend between 50 to 80 hours a week to complete their tasks. For consulting firms, managing talent is the most important aspect, but they continue to experience extremely high levels of work-life imbalances, leading to problems such as low satisfaction and high turnover. 
With millennials and Gen Z's motivations changing towards wellness and pursuing purpose at work, it will be a bigger challenge for consulting companies to offer an appealing value proposition to retain talent and attract prospects.
Shifting perspectives in the sector
There's a growing acceptance within the consulting industry that any talent strategy that doesn't address the industry's work-life imbalance issues is not sustainable. And several consulting firms are increasingly implementing policies that provide consultants with the opportunity to get some time off from work to relax and recharge. 
There are three key reasons that have forced firms to start taking work-life balance issues more seriously:
1. Shift in the competitive landscape in the war for talent 
In the past, consulting firms were mainly competing for talent against the sectors with similar issues relating to work-life balance, for example, the financial service sector. However, with the rise in product management, technology, and entrepreneurial roles, the attractiveness of consulting as a career has been on the wane. 
2. Work-life balance has emerged as a key motivation for Millennial and Gen Z 
Different studies show that Millennial and Gen Z employees desire more and more to work for companies that take issues of personal well-being seriously.
3. Cultural attitudes towards work-life balance continue to shift
In recent years, especially post- Covid times, individuals have reassessed their work. More and more people are seeking opportunities allowing them greater flexibility, including meeting the needs of their families and finding purposeful work.
With these factors in mind, consulting leaders are fundamentally rethinking their value proposition to retain talent and attract prospects.
How are consultancies addressing the issue?
Realizing the critical aspects of the work-life balance issue, several consulting firms are increasingly implementing policies to provide consultants some time off from work to relax and recharge. Firms are communicating employee flexibility as a shared responsibility, emphasizing that they are committed to helping employees find work-life balance and will not leave them to manage their well-being on their own. Moreover, to retain and attract top talent, talent managers are trying to understand the values millennials and Gen Z see as important, whether that's a work-life balance or social responsibility, and incorporate these values into their workplace culture. 
Some of the most popular steps are listed below:
1. Broadening of success metrics 
Many talent managers within consulting firms have started to rethink the existing success metrics and are of the view that employee evaluations should be less contingent on billable hours and work-life sacrifices. They are coming up with better metrics for employee evaluations that are related to performance, quality, and client and team satisfaction.
2. Changing the culture of glorifying overwork
For many years, the consulting industry has presented long hours and face time as an integral part of the consulting profession and glorified overwork. Organizations are increasingly trying to change this narrative, emphasizing more on the well-being of their employees. 
3. Provision for extra vacation days 
Provided that projects are long, many consulting firms would typically encourage their employees to take time off after the completion of a long, intense phase of their work. 
4. Sabbatical leaves policies
Incorporating an extended period of unpaid leave (sabbatical) is increasingly supported by more and more consulting firms. These policies help employees deal with major changes or challenges in their personal lives, such as parenthood or other important personal commitments.
5. Building a culture of 'Health'
An integral part of work-life balance is prioritizing health and wellness. Organizations are setting boundaries between work and home hours, encouraging employees to take frequent breaks, and prioritizing physical and mental well-being.
6. Limited travel policy 
To accommodate the special needs of employees in particular situations, such as a woman employee returning from maternity leave, many consulting companies offer limited travel policies. 
7. Measures to bring structure within overtime
We also see different measures taken by companies to bring more structure within overtime. Some initiatives encourage consultants to plan for events such as sports days or time to meet family obligations.
8. "Smart" organizations design work around people
Smart organizations empower their employees to make decisions on when and where they prefer to work. However, the necessity to be present in clients' locations makes it difficult for consulting firms to implement teleworking policies. Still, a few consulting firms have started experimenting with providing their employees with some desk space for meetings on a "drop-in" basis. 
9. Increasing usage of collaboration and productivity tools
Consulting firms are increasingly adopting collaboration and productivity tools to support their consultants'  work. These tools help employees collaborate effectively and work efficiently. Some examples of productivity tools are solutions for slide beautification, summarization, translation, and chat-based services. If we talk about collaboration, the most common tools are solutions for communication, file sharing, to-do management, knowledge management, and process visualization. 
A case study of My+ program by PwC
PwC recently launched a reimagined people experience, called My+, that is centered around choice and flexibility and tailor-made to further support development, well-being, purpose, and personal ambitions. The company will invest $2.4B to bring this personalized experience to life. My+ will provide its employees the power to build personalized careers, from choosing the types of assignments they work on, to the hours they work, to where they work and the benefits they need. 
Here are some of the perks provided by PwC:
Expanding its flexibility options, from reduced schedules, 20% pay leaves of absence, and the potential to work from anywhere, even internationally

Starting this year in the US, PwC is adding an additional week-long firmwide shutdown, providing people two shutdowns a year (in July and Dec)

Parental leave  extended from eight to twelve weeks

Increased mental health support by doubling the number of free visits with a mental health professional a year, from six to twelve visits

Encouraging its people to pursue professional paths that excite them and support their well-being, development, a sense of purpose, and ambitions
Building work-life balance – examples from tech/start-up companies
Slack

avoids cushy office perks to encourage employees to leave on time. That way, employees can be at their best when they work e and leave on time—without any temptation to stay late for yoga, cocktails, or a catered meal.

Google

has a 20% policy, where they allow engineers to spend 20% of their time working on their own ideas. 

Ryan

, the global tax services firm, allows employees to work anywhere at any time, as long as the work gets done. 

Cabin rental startup 

Getaway

 makes it mandatory for employees to take four weeks of vacation per year
How to further improve your work-life balance score?
Before planning additional activities, it's imperative for talent managers to keep a keen eye on how the 'Future of work' is likely to emerge. In a recent study, Gartner highlighted 'Ways the Workplace Will Change in the Next 10 Years'. Here are the top three:
1. Smart machines will be our colleagues
Smart machines are getting smarter and more ubiquitous, completing tasks previously performed by humans and doing what was thought impossible for machines.
2. Upskilling and digital dexterity will outweigh tenure and experience 
In the future, the most high-value work will be cognitive in nature. Employees will have to apply creativity, critical thinking, and constant digital upskilling to solve complex problems.
3. Employees will work for purpose and passion, not just money
Smart companies will make themselves more attractive not solely by paying higher salaries but also by offering employees an opportunity to make a meaningful impact. 
Organizations have done a commendable job in the adoption of digital collaboration and productivity tools, especially after the COVID-19 pandemic. However, when it comes to the adoption of AI-powered automation/digital assistant tools, there is still a long way to go. 
Therefore, the leadership team has a role to play in equipping workers with the right AI smart tools and promoting their adoption in the workforce. With the increasing usage of these tools, firms can help their consultants to cut time on repetitive and non-creative tasks, thus resulting in a perceptible improvement in their work-life balance.
How can Brian help? 
One of the highly-advanced AI options on the market that is able to address the issues discussed above is Brian, an AI-powered digital assistant for consultants. Brian supports consultants with 30+ routine and tedious tasks such as translating documents from/to 100 languages, providing company information, conducting industry research, offering high-quality pictures and presentation graphics, generating the content, and more. On average, Brian currently saves 4 to 7 hours for each user per month, allowing consulting firms to improve their work-life balance score. 
Apart from saving time, using Brian has a number of other advantages that make it the perfect work companion for your digital workforce: 
1. Fast time to value
As a consultant, you need to focus on your work and should not spend much time learning how to use new tools.  All you need to do is watch our 3-minutes "Getting started with Brian" video.
2. 'Helping hands' around the clock
Brian delivers 24/7 within 3 minutes and has you covered with many functionalities – no matter when and from where you ask him for help.
3. Reducing complexity 
Consultants' lives are becoming more and more complex with multiple tools, solutions, and logins. Brian addresses the quest for simplicity by covering multiple needs in one single source – so you will never need to remember an additional password or your login details again. 
4. Forget About Software Installations
Installing, updating, and managing desktop applications or add-ins is just annoying. With Brian, you are not required to install or get used to any new software. Brian is where your work-related communication happens. He communicates like a regular human colleague via email and Microsoft Teams very intuitively. 
5. Reducing Cost
Consultancies spend a lot on access to multiple information sources, research, and a growing number of tools. Brian helps to reduce external spending on research and tools by combining key functionalities of multiple technologies in one solution. 
In Conclusion
There is a growing acceptance in the consulting industry that work-life balance is a major issue for the sector. Although managing talent has become more challenging for consulting firms in these changing times. However, we strongly believe these firms will continue to attract experienced professionals and graduate students because of their incredible benefits and the employee-friendly measures they have put in place.
We at AskBrian, are happy to share that we are supporting several firms in their mission to improve their employee experience and will be happy to support many more.
Feel free to contact us if you want to learn more about how we can add value to your team!
About the author
Jeewan Gaur works as product manager and customer success manager at AskBrian. He has more than 10 years of experience of working with start-ups, consulting as well as large firms. Before joining AskBrian, Jeewan worked at CRISIL Ltd (a Standard and Poor's company) and BCG Knowledge in Mumbai, India.