Looking into the data is essential for the development of any product. When we checked Brian's performance, we found that business professionals prefer to use the AI assistant via Microsoft Teams than via email.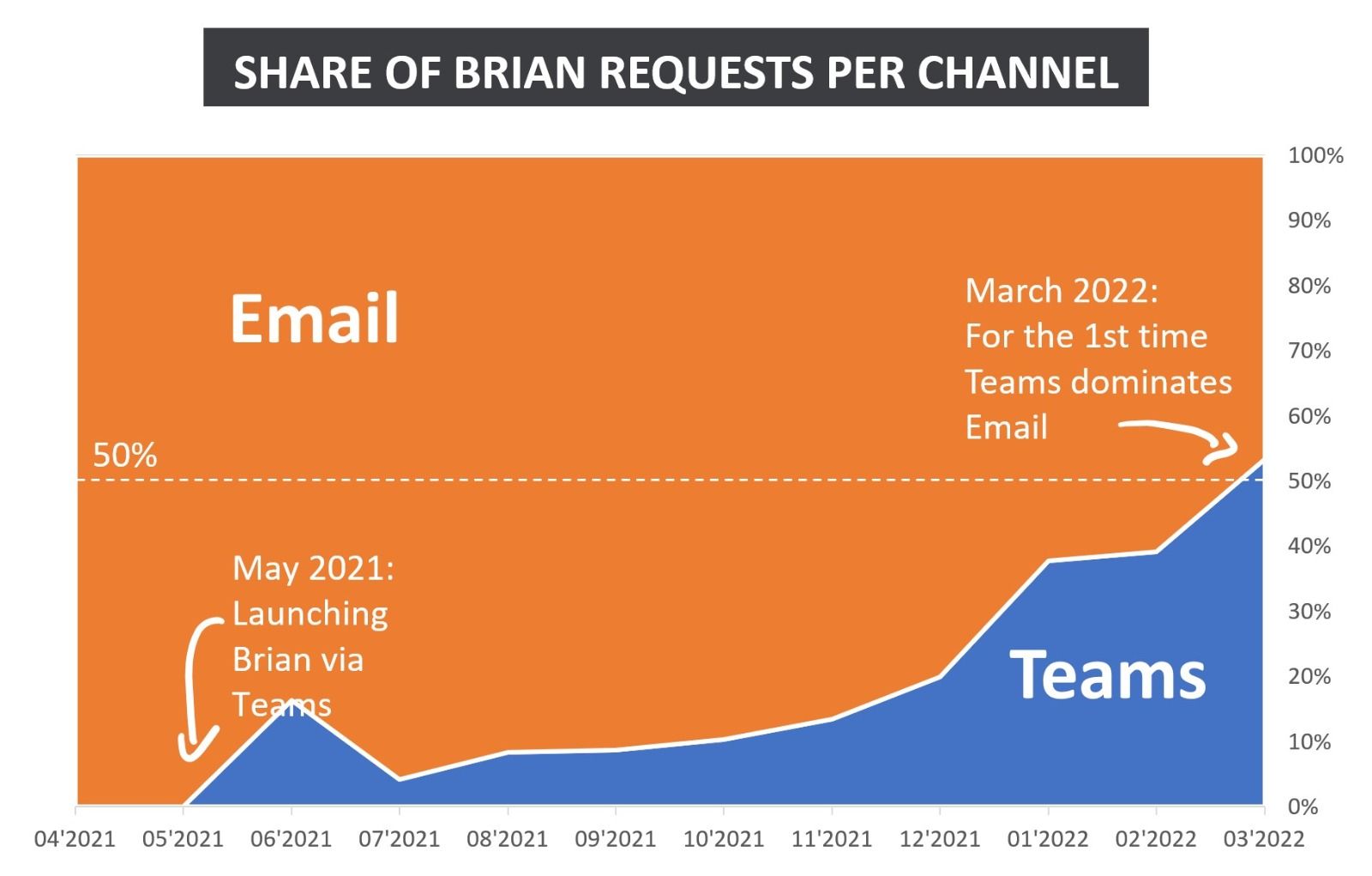 Surprised? We don't think so. 
More and more users prefer to access Brian's skills via MS Teams, because of different reasons. It is simply more convenient, fast, and fun. Therefore, we put work into making Brian's functioning in Microsoft Teams more efficient. As a result, after months of hard work, Brian is now approved by and available on the Microsoft Teams App Store. Hooray! 
The AI assistant is now easily accessible to more than 250 million users. This is a significant milestone for the company and an immense advantage for business professionals who stand to benefit from the skills that Brian offers. 
The AI assistant frees you of trivial or mechanical work to be more engaged in critical and creative thinking, thereby increasing your productivity and the company's growth. These are only part of the reasons why Brian is on the path to becoming a favorite choice within Microsoft Teams for business professionals worldwide. 
Wondering how to use it more effectively and what are all skills available? 
The answer to this question can be found in Brian's core. The best first action is to ask him about his skills. While Brian is continuously learning, here are the skills categories that you can use as of now:
File Handling: You can trust Brian to handle your files efficiently – from translating your documents to converting PDF files into Microsoft Office formats. PDF acrobatics is a skill family within the File Handler with multiple PDF-related functions such as merging, splitting, extracting, and much more.
Research: Brian is your best source of information, always using the leading data sources available. Details of company profiles, company peer comparisons, top companies, and even miscellaneous categories such as country facts are all just a click away. Moreover, there is an 'ask anything' functionality offered as well.

Slide Graphics: This Brian's skill enables you to ginger up your presentations by helping you with icon sets and PowerPoint slide templates. Feel free to check out his skills under this category and start creating amazing presentations.
While using Microsoft Teams, do not forget to pin Brian so that your assistant will be available to you just one click away. 
Translation has never been easier
We can understand Brian's efficiency by looking into one of the most popular services – translation. Using the AI assistant, the tedious translation task is done with high efficiency and in a few seconds. You can use this skill in two ways. In the first option, you can simply use the chat function to send the source text accompanied by a simple instruction such as "translate the file from German to English". Brian will send you the translated documents in a few minutes, wiping away the need for long hours of manual work.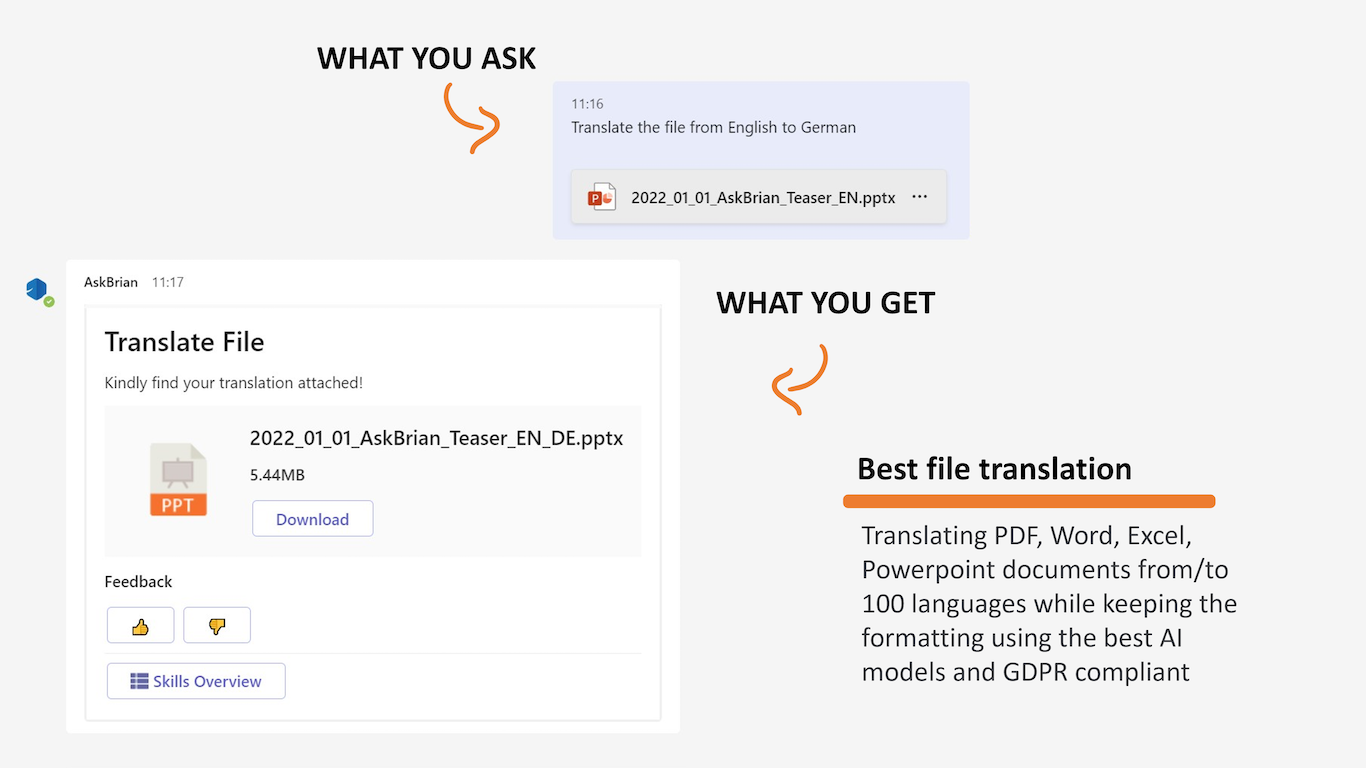 The second option is to access the 'Translate File' function from the skill category 'File Handling' by clicking on the 'Skills Overview' button. You will have to input the source and target languages and click on 'Ask Now'. Following this, within a three-minute window, you will be able to upload a document and send it to Brian. You can upload files of sizes up to 20 megabytes either from the device or from One Drive. 
Brian is undoubtedly an asset to businesses. Whether you are a management consultant or a business professional, Brian helps you to succeed at work 24/7.  Watch the video for more insights: 
But the question remains – how to give it a try? 
Register for a FREE TRIAL or request an interactive DEMO.