Automated content generation technologies have made huge progress in the last decade. The models are becoming more and more sophisticated and much simpler to use. The improvement in the quality of the generated content has also been fascinating. The most notable among these AI content generation technologies is GPT-3 (Generative Pre-trained Transformer 3), the third-generation language prediction model in the GPT-n series created by OpenAI. 
We have started to witness the increasing use of these technologies based on GPT-3 and other language generators across varying categories and industries. 
Many businesses across industries have begun to evaluate the benefits of using AI technology for their content creation requirements. The impact of this technology will be of varying degree in different industries based on the type of content they generate. From basic content, content based on existing knowledge of the internet and other materials, to qualitative content on a regular topic are these types that are easy to write using AI. Complex and original content creation will continue to require human expertise. 
In this article, we are discussing the current state of AI-generated content – advancements and capabilities. Its ability to disrupt the way content is created and its implications for the management consulting industry. This article also highlights real use cases developed by AskBrian using GPT-3 to support the work of consultants and business professionals.
The advantages of AI-generated content
We are still at the very beginning of this constantly evolving technology, and we believe it will become more advanced, much simpler and with wider applications across businesses in the future. Even in its current state, AI content generation has demonstrated a number of advantages compared to content generated by humans: 
Most importantly, in the common use cases, the quality of the text generated by AI is at par with that written by a human

Using AI also lowers the costs compared to employing human writers, helping businesses to optimize their expenses

With the support of artificial intelligence, you generate a huge amount of content in a quick time resulting in significant time saving for your business

And last but not least, human writers will never be able to match the knowledge of the advanced language models.
The secret to the most powerful and the simplest content generation
GPT-3 is an autoregressive language model that uses deep learning to produce human-like text, created by OpenAI, an AI research laboratory. GPT-3's full version has a capacity of 195 billion machine learning parameters. 
It's releatively simple to customize GPT-3 for different applications. With only a few examples, the model can perform a wide variety of natural language tasks. The quality of the generated text is so high that it can be difficult to determine whether it was written by a human or a machine. Also, the content is generated within seconds resulting in significant resource and time optimizations for both companies and professionals. To date, over 300 apps are using GPT-3 across different categories and industries, from productivity and education to creativity and games. 
Use cases powered by GPT-3
GPT-3 offers a suite of capabilities for natural language tasks. For our study, we evaluated over 80 GPT-3 example applications to understand the state of technology and its ability to support consultants in their work. These applications belong to seven categories of natural language tasks: 
Answering questions:

 answering factual questions, JavaScript-related questions.

Classification:

classifying items, detecting sentiment in tweets, extracting keywords from text blocks.

Code-related:

 translating code from one programming language to another, translating natural language to SQL queries.

Conversation:

 having conversations on any topic, chatting like a friend. 

Generation:

summarizing content, writing an essay outline, generating spreadsheets.

Translation:

 translating a code language to natural language, translating one programming language to another.

Transformation: helping writers with grammar correction, and summarizing content pieces.
Taking consulting and similar businesses as an example, we have noticed that the most helpful applications of the model include questions answering and content generation capabilities. These applications can create report outlines, industry material, and proposal document outlines to support consultants with their most frequent use cases.
Brian's AI-powered content generation skills
We at AskBrian developed three practical use cases of content automation powered by GPT-3 that are aimed at boosting productivity and reshaping the way business professionals work. These are: 
Ask Anything

: Get a short answer within seconds on any of your questions – no more information overload. Watch this

video

for more details

Draft slides:

Brian can draft slides with key points for any topic or action title and suggest visuals. Learn more about the skill l in this

video

Brainstorm on 'any topic'

: Brainstorm quickly on any topic you can think of with your buddy Brian who has read the internet. Curious to know more? Here is a

video

that can help. 
Here is a screenshot of the Brainstorm skill in action on MS Teams: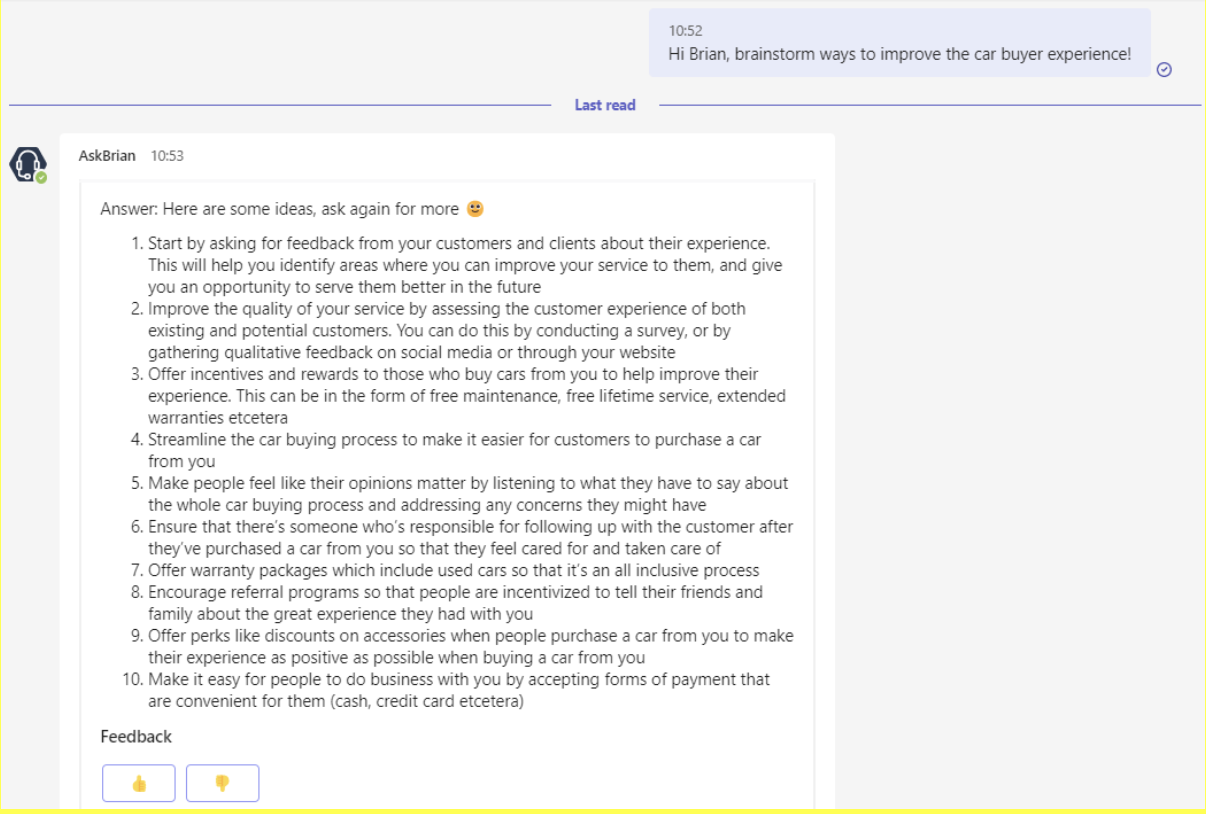 With these skills, some of the most common tasks in consulting – the initial information gathering, generating valuable ideas on topics, and providing qualitative sub-aspects – are now automated, accelerated, and conveniently integrated into the daily work of busy professionals. Brian's content automation feature got wide coverage in media and was published by Yahoo Finance, Consulting.de, and MarTech Series, among others. 
'Industry Brief' – Brian's next content automation skill 
We are currently building our next content generation skill called "Industry Brief". This skill will combine information from structured (Damodaran research, Refinitiv, Contify, etc.) and unstructured (GPT-3) sources to generate a comprehensive brief on selected industries for Brian's users. The skill includes the following elements for each industry:
Slides created using customized GPT-3 prompts: These slides will cover useful info on a select industry, including intro, value chain, Porter's forces analysis, and key trends

80 industry KPIs from Damodaran's research

List of public companies sourced from Refinitiv

Most recent 20 news articles for the industry from Contify
This skill will help management consultants with one of the most frequent tasks in consulting – getting to learn the fundamentals of the select industry with one request only!
Implications for Management Consulting
In the context of the consulting industry, there are unique challenges that the technology needs to overcome. Producing content is one of the critical responsibilities of consultants and business professionals. However, creating content is not only about gathering information, it is also about drawing unique insights, connecting the dots, and recommending the action points. Moreover, each mid to big-size consulting company has its own proprietary and niche knowledge stored in its internal system that the consultants use for their work. Non-accessibility to these training resources also limits language models' ability to help consultants.
Still, it's important to note here that content automation has started to augment and support consultants in their daily lives. We see use cases emerging from creating outlines to answering questions extracting key points to summarizing content. As mentioned above, AskBrian has already created 3 very helpful use cases of content automation for busy professionals. We will continue to see more use cases emerging, which will make the lives of consultants/busy professionals easier. The technology will continue to play a supportive and augmenting role in the consulting industry rather than replacing the consultants. In the future, when the technology becomes more powerful, AI may then be able to produce more complex/original content even better than humans. 
GPT-3 technology limitations
As with any technology, especially an emerging one, using automated content writing technology based on GPT-3 and other language generators has some concerns regarding copyright protection, misinformation, and algorithmic bias. Sometimes the technology invents words with no meaning and provides factually incorrect information. GPT-3 can generate articles that are difficult to distinguish from articles written by humans, the users need to be cautious about misinformation, spam, fake news, and other harmful effects.
OpenAI has done a tremendous job in its efforts to deal with these concerns. They have put in place strong content filters reducing the risk of biased and abusive content significantly. Each use case is thoroughly reviewed by OpenAI and needs a permission to limit the risks. We are still at the very beginning of this ever-evolving technology, and our belief is that it will become much more protected and safer to use in the near future.   
What's next 
OpenAI has recently launched the second version of DALL·E, the AI system that creates realistic images from a description in natural language. We are experimenting with the technology already in order to provide an even better experience to Brian's users and will share our insights soon!