Supporting our Student Ambassadors
When introducing new technology, communication is essential to support the change process. Brian is a very special kind of software and even if he works in a very intuitive manner we see, that a proper communication is essential for a successful Brian adoption. When introducing Brian to new users, our key contact persons play an essential role being also interested in a successful implementation of Brian. We want to support our Ambassadors  as good as we can and therefore share here some helpful materials you can use when communicating Brian adn preparing your demo events. Thank you!
– Feel free to copy-paste! –
Helpful materials to communicate Brian and his skills 
Interested in becoming a Student Ambassador or just want to have a look at our Ambassador Program Overview again ?
Here you can find the Onboarding Presentation covering the following topics:
AskBrian Team Introduction
The Ambassador Program Overview
Ambassador Tasks and Responsibilities
Incentives and whats in for you as Ambassador
Rules and Regulations
Certification procedure
Just wanting a short glimpse of what your responsibilities as ambassador are, the concrete steps you are going to take and a little more…
Here you can find the Onboarding Onepager covering the following topics:
Ambassador Tasks and Responsibilities
Certification procedure
Concrete Steps to take
Supporting resources
---
You can find further resources such as:
Logos
Videos of Brian skills
Podcasts featuring Brian or AskBrian Founder Pavol
Useful links
Mail templates and more
on our general asset page here.
Here you will find the recorded Insight Sessions and any further Material related to the session topic.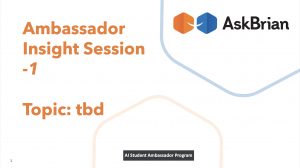 Insight Session 1:
Topic:
Date:
Summary:
If there are any questions left or you want to be a Brian Ambassador as well, just get in touch!